Craig Wilson – The Kilted Chef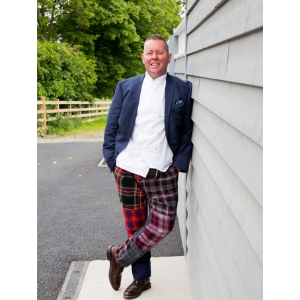 Craig Wilson 'The Kilted Chef' is the owner of the award-winning Eat on the Green restaurant in Udny Green, Aberdeenshire. With over 30 years in the industry, Craig is passionate about locally grown produce and showcasing the best of Scotland's larder. Since he opened his restaurant in 2004, Craig has earned a loyal customer base and received wide recognition amongst local and national industry awards.
Craig has worked hard to deliver a food and drink experience which is a cut above the rest and as part of this; he works closely with a handpicked selection of local suppliers who share his ethos and passion for food.
Named a Regional Food Tourism Ambassador for Aberdeenshire by Scotland Food & Drink, Craig plays a key part in raising Scotland's profile as a global food tourism destination. In this role, he also supports the food, hospitality and tourism sectors in rebuilding from the pandemic whilst shaping sustainable food tourism experience within his local community.
Craig has been honoured to cook for many high-profile celebrities including the late Sir Sean Connery, Sir Alex Ferguson and Sir Patrick Stewart. He even went stateside to fly the flag for Scotland's fantastic produce in New York as part of Scotland Week and in 2018, he was the only Scottish chef to feature, alongside renowned Michelin-starred chefs from around the world, in a Culinary Stars food event at the five-star Sofitel Legend Metropole Hotel in Hanoi, Vietnam.
A committed supporter of cancer related charities, Craig has raised over £250K through various challenges, food demonstrations, fundraisers and events. He has also worked with Friends of ANCHOR since 2015, a cause which is very close to Craig's heart and during this time he has raised a phenomenal £100,000 for the charity.
In recognition for his commitment to using fresh, sustainable Scottish produce and sharing the 'food story' behind it, Craig was presented with the Food Tourism Award at the 2018 CIS Excellence Awards. More recently, Eat on the Green was awarded Best Eating Experience in Scotland, at the national Scottish Thistle Awards. To commend Craig's hard work in spreading the message about food provenance and his commitment to raising money for cancer charities in the north east, he was awarded the Denis Emslie Above and Beyond Award at the North East Food and Drink Awards.