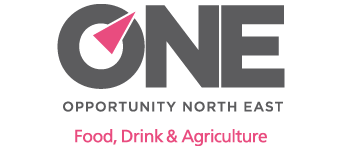 Opportunity North East
Opportunity North East (ONE) is the private sector's response to the long-term economic challenges facing North East Scotland.
ONE is industry-led, privately funded, region-specific and focuses on action to achieve business growth and safeguard or create employment, which gives it a unique ability to add value to economic development activity in North East Scotland. With an investment commitment of £62 million over 10 years from the Wood Foundation, ONE catalyses partnership working and co-investment with the aim of leveraging a further £62 million of match funding from the private and public sectors to deliver transformational projects.
Food, drink, agriculture and fishing are major contributors to the North East economy and directly employ more than 22,000 people. ONE Food, Drink & Agriculture aims to build on this strong regional foundation to achieve overall increases in turnover, profitability and high-quality employment in the sector in the medium to long term. The focus areas for its activity are business growth, innovation, supply chain integration, market development and skills. ONE co-funds its work with private and public partners, including Aberdeenshire Council, Quality Meat Scotland, Scotland Food & Drink, Scottish Enterprise and SRUC, to maximise growth in the sector.