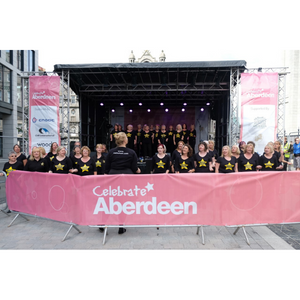 Rock Choir Aberdeenshire
Rock Choir is the pioneering contemporary choir of the UK and remains unique with over 33,000 members participating in approximately 400 local communities. It offers all ages an alternative experience to the traditional classical or community choir introducing members to feel-good pop, rock and contemporary chart songs.
Its uplifting ethos of fun, friendship and community spirit is a huge part of its attraction where members enjoy a dynamic and busy new social life and connect with their community. At an individual level, it helps improve people's well-being by building their self-confidence, self-esteem.
Rock Choir Aberdeenshire is led by Choir Leader Rachael Watson who runs five separate choirs across the City and Shire. There are currently just under 300 Rock Choir Aberdeenshire members.
There are no auditions and no requirement to read music when joining Rock Choir.