Entertainment with Virtues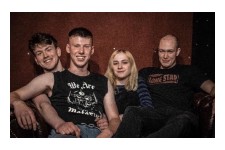 Virtues are a rock band who are young, poorly kitted out and full of fresh and exciting tunes. They are comprised of singer and rhythm guitarist Jess Mowat 19, lead guitarist Jack Devall 23, bass guitarist Ross White 20 and drummer Ross Henderson 19. The band are based in sunny Aberdeen and formed in September 2019. Virtues are for fans of anyone who wants to hear a return to direct and hard hitting rock music packed with heavy breakdowns, but also have the slower, more melodic side to their writing. Due to their range of influences they appeal to fans of punk, grunge, post punk, indie, new wave and classic rock.
They released their debut EP "You're Alive" in February 2020 in typical Virtues fashion with a distribution error leading us to share a Spotify page with an Australian hip hop artist for a month.