Entertainment with Sam Hibbard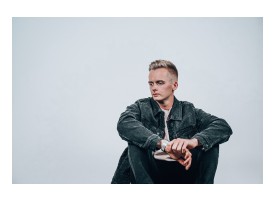 Sam Hibbard is a 22 year old Singer-songwriter from Aberdeen, Scotland. His music is a blend of classic singer-songwriter with pop influences. Sam is passionate about writing songs that carry a message of hope. He has been performing and releasing his own music from the age of 15 – his latest EP 'Falling Upwards' can be found on all music platforms. Sam has a glowing tenor voice, crisp electronic sounds and pop driving melodies. Those who like the dreamy soundscape of coldplay and the authentic feel of Ed Sheeran will love his music. He has performed in various gig settings from local bars to national events. Most recently he played the Aberdeen after-shows for Liam Gallagher and Gerry Cinnamon. Sam and his friends wrote Memories and Hold on to Hope during the pandemic, the song was created during a 30 minute Instagram livestream whilst in lockdown.
Youtube: youtube.com/samhibbard
He can also be found on Spotify, iTunes, Apple Music, Amazon Music & more.